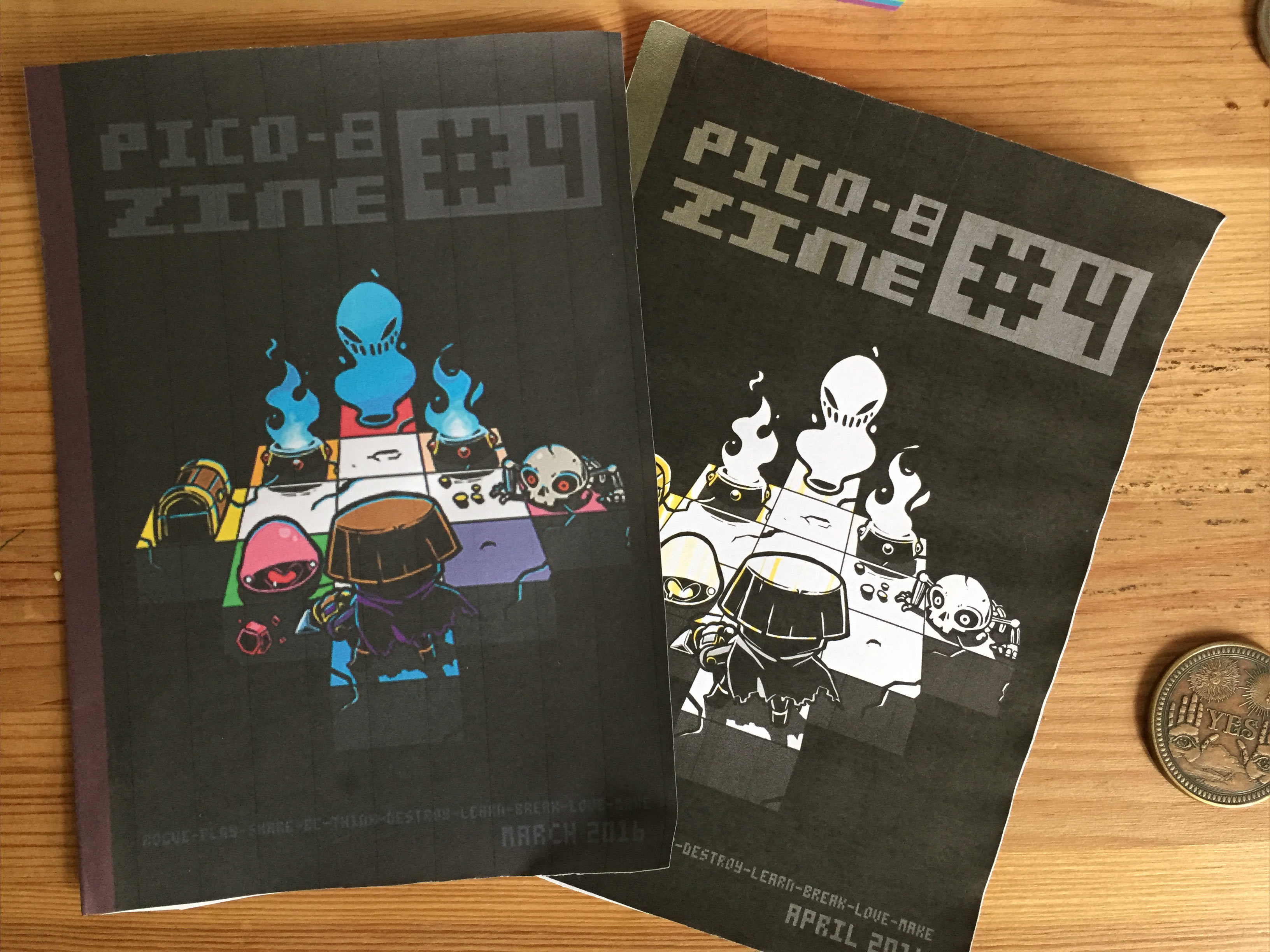 PICO-8 ZINE 4 - SPECIAL ROGUELIKE
This is the Fourth PICO-8 ZINE!
Special ROGUELIKE
Enter the marvelous world of PICO-8 !
PICO-8 is a fantasy console to make, share and play tiny games and other computer programs.
PICO-8 Zine is a 40-page fanzine made by and for PICO-8 users.
Learn how to make a game (from the code, sprite, music point of view) and discover the history of PICO-8.
Articles and authors :
DON'T WAIT by @smestorp

AI MOVE SPECIAL ROGUELIKE by @benjamin_soule_

A* pathfinding in PICO-8 by @richy486

Traps For Absolutely Every Imaginable Occasion by @mooonmagic

The Roguelike*shiny*game-feel by @TRASEVOL_DOG
Dungeon walls by @caffo

Sharing music between carts by @RobbyDuguay

DONUT MAZE

by @lexaloffle
and the front cover has been done by @pietepiet
and the back cover by @castpixel
For more information: www.pico-8.com
contact: @arnaud_debock
You can order the paper version here (all proceed go to the making of the Fanzine!) :

http://pico8fanzine.bigcartel.com

PICO-ZINE #1 : http://sectordub.itch.io/pico-8-fanzine-1

PICO-ZINE #2 : http://sectordub.itch.io/pico-8-fanzine-2
PICO-ZINE #3 : https://sectordub.itch.io/pico-8-fanzine-3
Download
Click download now to get access to the following files:
picozine_4_0_3_print.pdf
2 MB